VA Home Loan Solutions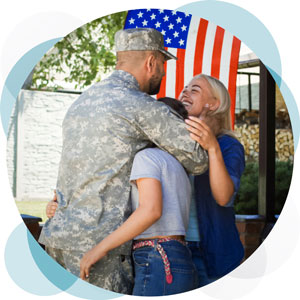 Veteran or current member of the military? Surviving veteran spouse? Want to purchase or refinance your home with no down payment? At ProVisor, we have the option to make that possible and get you into the home of your dreams.
The U.S. Department of Veterans Affairs (VA) offers multiple programs to aid veterans, active duty service members, National Guard members, reservists, and their families. One such program is the VA home loan, making home-buying easier for military personnel and their families. VA home loans are popular to those who qualify as there's no down payment required, rates tend to be lower, and you can refinance up to 100% of your home's value!
Similar to FHA loans, VA home loans are guaranteed by the U.S. Department of Veteran Affairs, and lenders like ProVisor make this loan eligible to veterans for the purchase of a home. VA home loans share similar eligibility requirements as FHA loans, often with lower closing costs, more liberal terms (usually without requiring a down payment), and even negotiable interest rates.
Qualify for a VA home loan? You may qualify if you meet at least one condition below:
You served for a minimum of 90 consecutive days during wartime
You served for a minimum of 181 days during peacetime
You served in the National Guard or the Reserves for more than six years
Your spouse, who is a service member, died in the line of duty or because of a service-related disability
There are numerous VA home loan benefits - click here to read about eight benefits for VA loans. VA home loans do not require a down-payment, and interest rates are typically lower than traditional rates. Qualification depends ultimately on the VA, and ProVisor can help facilitate the process.
A VA Home Loan is perfect when considering moving into your first home, moving homes, or even refinancing your mortgage. You'll have the opportunity to save more on your loan and invest more into your future. Veterans who come to ProVisor highly recommend us to their friends and family. When you become a client, you are well taken care of. From the moment you call or walk into our office, you know you're in the right hands. We are honored to be of service to those who helped protect our country and we want to give back by providing the most help we can with the best quality.
Contact ProVisor to discuss your VA home loan eligibility today!