First Time Home Buyer Loan Solutions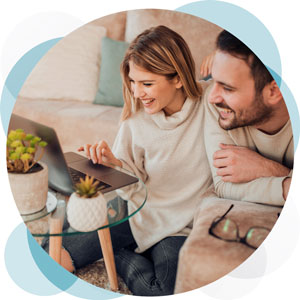 Planning to purchase your first home? If the answer is yes, congratulations! However, you probably have several questions about the real estate market, the process of purchasing a home, and how to apply for and receive a mortgage loan. ProVisor can help get you the answers you need and settled into your first home!
A few things to anticipate when purchasing your first home:
This list breaks down the main steps you'll be taking and gives you a basic understanding of what to expect when financing and purchasing your new home.
Work with ProVisor to develop your pre-approval letter.
Choose a realtor and look at houses.
Choose your desired house(s) and eventually receive an accepted offer on one.
Call your ProVisor loan officer to begin the mortgage plan right away and develop a loan commitment letter.
Receive a home inspection and schedule an appraisal of the home.
Receive approval of the mortgage with final details before closing.
Sign the dotted line and move into your dream home!
---
There are multiple mortgage loan programs ProVisor can discuss with you:
- FHA Loans
FHA loans are known to many as the best first time mortgage loans and are backed by the federal government. FHA loans tend to be easier to qualify for and involve incentives, such as a low down payment of 3.5% and allow for fair credit. The downside of these loans is higher costs overall, such as private mortgage insurance (PMI).
- Conventional Loans
Conventional loans tend to be chosen by those with good or excellent credit and/or a large down payment. These loans tend to be cheaper than FHA though they have a higher barrier of entry. ProVisor can discuss the benefits of a Conventional loan for your home!
- USDA Loans
USDA home loans are available in rural and select suburban areas. For USDA home loans, no down payment is needed, and they are available to borrowers with very low, low, and moderate income. You also can't have a lot of debt. All USDA mortgages are offered at a 30 year fixed rate only.
- WHEDA Loans
Wisconsin Housing and Economic Development Authority, known as WHEDA, has a mission to stimulate the state's economy and improve the quality of life for Wisconsin residents by providing affordable housing and business financing products. WHEDA offers low and moderate-level income homebuyers within Wisconsin 30-year fixed loans with 0% down to begin. With WHEDA loans, you can expect reduced-cost private mortgage insurance or no mortgage insurance!
- VA Loans
Active military personnel, veterans, and their spouses can apply for a VA home loan. VA home loans require no down payment for the home and often include lower rates than are available to the public. VA loans are similar to FHA loans in eligibility requirements, but are dependent on approval from the VA.
We understand purchasing your first home can be very intimidating, but the mortgage loans that we offer at ProVisor will help with most financial situations. These loans are specially designed to help with a variety of different scenarios. When you set an appointment with us, we will discuss each type of loan, learn about your income and finances, and, with years of experience, we will recommend the best mortgage loan that you are qualified for and fits your specifications.
Contact us today for any information regarding ProVisor and your first-time home buyer experience!